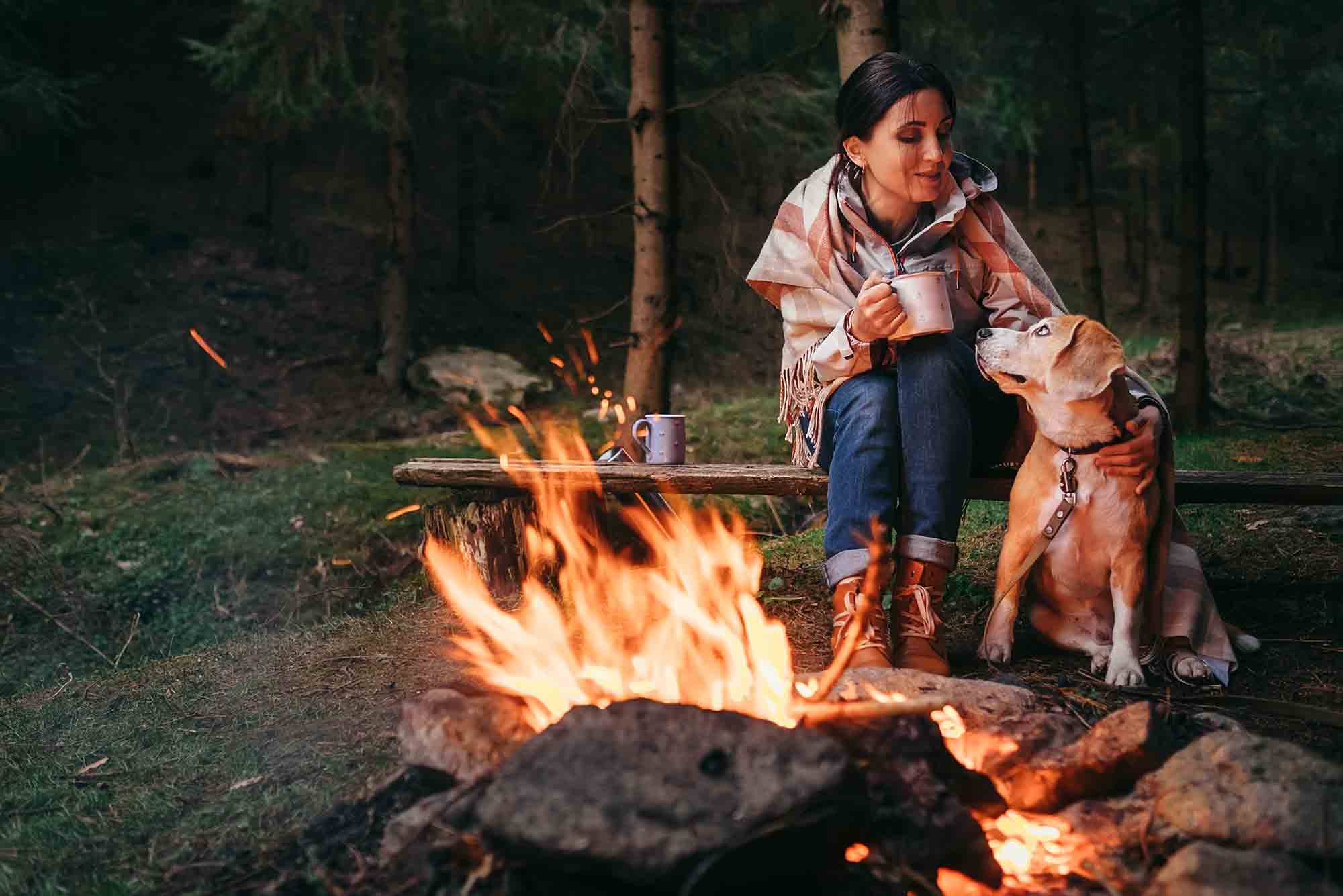 Camping? Yes. Hiking? Absolutely! Relaxing lakeside? You bet! For those of us dog-owning nature-lovers, there's no better time of year than summer. With warm temps and sunny days, nothing sounds better than getting out on the trail or camping in the woods.
Of course, enjoying the outdoors with your dog offers many benefits, including exercise, socializing, and increased bonding with your best pal. However, it's important to take caution when getting outside with your dog.
Cover Your Bases
If you're an outdoor enthusiast, you probably have more than enough gear for your own safety and comfort. Likewise, your dog should also be properly outfitted with the right hiking or camping gear.
Before heading outdoors with your dog, make sure you have the following:
Up-to-date on

vaccines and parasite preventives

Collapsible water bowl

Sturdy leash, no longer than 4-6 ft. in length

Collar and ID tags (with current contact information)

Doggie backpack (if your dog is able)

Dog-formulated sunscreen

A collar bell or something that makes noise when you're on the trail

Tie-out no longer than 10 feet, if camping

Crate or carrier for travel

Gear for various seasons and weather

Sturdy dog bed with extra towels/blankets
Don't forget to bring along extra water to discourage drinking from creeks, lakes, and other natural water sources, as these are often breeding grounds for parasitic illnesses.
Ready, Set, Hike!
Consider the following helpful tips for hiking with your best fur pal:
Keep your dog hydrated. Even on cloudy days, bring plenty of water along for the hike and car ride.

Divert your dog's attention from wildlife by keeping them on a leash and close by your side. If you encounter an animal, move away as soon as possible, giving it a wide berth.

Check your dog for ticks

or injuries (including the paws) at the end of each hike.

Take several rest breaks if you're planning on taking a longer hike.

Bring along healthy treat options for your dog.

Keep an eye on energy levels and general comfort. Go home if they seem tired or too warm.
Camping with Canines
Along with our hiking tips, staying outdoors overnight with your dog warrants additional considerations:
Whether it's a tent, RV, or trailer, bring your dog inside with you at night. If this isn't possible, they can stay in the car, as long as it remains under 70 degrees outside. Keep the windows cracked for ventilation.

Be mindful of campground rules. Always keep your dog leashed or on a tie-out that's no longer than 6-10 feet.

Watch for wildlife, and stop your dog from chasing or barking at wild animals. Put away your dog's food bowls each evening, and keep a clean camp.

If your dog is a chronic barker, a campground may not be the best choice.

Be a good camp steward by cleaning up after your dog.

Don't forget to bring all of your dog's gear, especially warmer clothes for chilly nights and rain gear for inclement weather.
Exploring the Outdoors with Your Dog
Enjoying the great outdoors with your dog may require a little extra work, but the experience is worth it. For more information or to schedule a wellness exam, please give us a call!